Crucial Conversations: Engaging Conversations That Matter
Date: Monday, September 25, 2017
Time: 7:00 pm- 8:15 pm
Place: Business Building Room 125
Research has shown that strong relationships, careers, organizations and communities draw from the same source of power — the ability to talk openly about high-stakes, emotional and controversial topics. This seminar will discuss how influential leaders master their crucial conversations.
Speaker: Dr. Kathryn Short, Professor of Education. California Baptist University.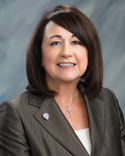 Dr. Short is a Professor of Education and Program Director for the Early Childhood Studies major in the School of Education at California Baptist University. Built into the major is an emphasis on leadership as it applies to working with children and their families. In 2016, Dr. Short was awarded the CBU Trustees Distinguished Scholar for her work in robotics where she programmed and scripted a robot to solicit joint attention skills with children diagnosed with autism. She is actively involved in First Five Riverside and a task force, ACES, to assist children living in adverse conditions.
Dr. Short received her doctorate in Educational Leadership from USC. Prior to teaching at CBU, as an educational consultant she interfaced with administrators, teachers and children living in poverty as she was the principle investigator on a variety of state and federal grants. She has worked globally training teachers on their role as advocates for working with at-risk young children. One of the joys of her life is Titus, her certified therapy dog. She plans on taking him to visit medically fragile children at CHOC hospital and to work with brain injured children in occupational therapy settings.
Admission is free, please complete the form below to register for the event.