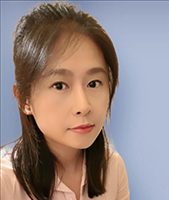 Shasha Zheng, PhD
Assistant Professor of Nutrition
Office Phone: (951) 552-8386 E-mail: szheng@calbaptist.edu Office Location: Health Science Campus H137 Office Hours: Wednesday and Friday 9:00-11:00
Degree
Major Emphasis
Institution
Year
PhD
Human Nutrition
University of Illinois at Urbana-Champaign
2011
M.A.
Medical Nutritional Sciences
Boston University School of Medicine
2007
Additional Education

Postdoc Fellow in Immunology, Yale University 2014

Academic Areas & Scholarly Interests

Evaluate antioxidants, nutrients and active components in traditional Native American plants from Southern California, with focuses on

1. Antiproliferative and cell cycle arrest against cancer cells

2. Inflammatory response and signaling pathways related to chronic inflammatory diseases

3. Immunological consequences of transcription factor interactions, molecular genetic and epigenetic mechanisms on the risk for developing human immune system disease

4. Effects of maternal supplements on fetal developmental programing and offspring health outcome



Research, Presentations, & Publications

Peer-Reviewed

M Hedl, S Zheng and C Abraham. The IL18RAP Region Disease Polymorphism Decreases IL-18RAP/IL-18R1/IL-1R1 Expression and Signaling through Innate Receptor-Initiated Pathways. Journal of Immunology. 2014; 192: 5924-5932.

S Zheng, C Abraham. NFκB1 Inhibits NOD2-Induced Cytokine Secretion through ATF3-Dependent Mechanisms. Molecular and Cell Biology 2013; 33: 4857-71.

S Zheng, Q Li, R Borhan, Z Balluff, Y Zhang, H Chen and Y-X Pan. Histone deacetylase 3 (HDAC3) participates in the transcriptional repression of the p16 (INK4a) gene in mammary gland of the female rat offspring exposed to an early-life high-fat diet. Epigenetics 2012; 7: 183-190.

S Zheng, M Rollet, KF Yang, Y-X Pan. A gestational low-protein diet represses p21(WAF1/Cip1) expression in the mammary gland of offspring rats through promoter histone modifications. British Journal of Nutrition 2012; 108: 998-1007.

S Zheng, M Rollet, Y-X Pan. Protein Restriction during Gestation Alters Histone Modifications at the Glucose Transporter 4 (GLUT4) Promoter Region and Induces GLUT4 Expression in Skeletal Muscle of Female Rat Offspring. Journal of Nutritional Biochemistry 2012; 23: 1064-1071.

S Zheng, D Iglesias-Gato, JN Flanagan, L Jiang, T Sakaki, S Nakabayashi, A Kittaka, NK LeBrasseur, G Norstedt1, TC Chen. The C-2 substituted 19-nor-1alpha,25-dihydroxyvitamin D3 analog, MART-10, has enhanced chemotherapeutic potency in PC-3 prostate cancer cells. Journal of Steroid Biochemistry & Molecular Biology 2011; 127: 269-275.

S Zheng, M Rollet, Y-X Pan. Maternal Protein Restriction during Pregnancy Induces CCAAT/enhancer-binding protein (C/EBPβ) Expression through the Regulation of Histone Modification at Its Promoter Region in Female Offspring Rat Skeletal Muscle. Epigenetics 2011; 6: 161-170.

S Zheng, Y-X Pan. Histone modifications, not DNA methylation, cause transcriptional repression of p16 (CDKN2A) in the mammary glands of offspring of protein-restricted rats. The Journal of Nutritional Biochemistry 2011; 22: 567-573.

JN Flanagan, S Zheng, KC Chiang, A Kittaka, T Sakaki, S Nakabayashi, X Zhao, RA Spaniaard, KS Persons, JS Mathieu, MF Holick, TC Chen. Evaluation of 19-nor-2alpha-(3-hydroxypropyl)-1alpha, 25-dihydroxyvitamin D3 as a therapeutic agent for androgen-dependent prostate cancer. Anticancer Research 2009; 29: 3547-53.

TC Chen, KS Persons, S Zheng, J Mathieu, MF Holick, YF Lee, B Bao, MA Arai, A Kittaka. Evaluation of C-2-substituted 19-nor-1alpha,25-dihydroxyvitamin D3 analogs as therapeutic agents for prostate cancer. Journal of Steroid Biochemistry & Molecular Biology 2007; 103:717-720.

Invited Review

Maternal Nutrition, Intrauterine Development and Disease Risks in the Offspring through Epigenetic Regulation of Gene Expression. Yuan-Xiang Pan, Rita Strakovsky, and Shasha Zheng. Nutrition Epigenetic Mechanisms and Human Disease (N. Maulik. eds). CRC press, Taylor & Francis Group, Boca Raton, Florida.pp.229-258. Shasha Zheng authored the content on pages 237-250.